Let our luxury suites indulge you!
Each suite is decorated in a unique, original style, so as to make five different experiences for our guests to enjoy. All of them come with delicate furniture pieces, double beds with fine cotton linen, a kitchen corner with cooking utensils and crockery, a Caffè Italy espresso machine. Dining tables both inside the suites and on their private terraces, spacious bathrooms, underfloor heating, some also have an outdoor shower. All have great Wi-Fi and a Bose Soundlink. There is no air conditioning system because we have the best one in the world: the fresh Umbrian summer breeze.
Get lost, play hide and seek and let your partner find you among the delicate pieces of local craftmanship. Then, and only then, allow yourself to stop a minute or two, breathe and go outside onto the suite's private garden terrace.
There's little compared to waking up and sipping a good espresso while you enjoy the magnificent view of the Apennines from your window. This is what every morning feels like in this suite that, in addition, comes with another incredible gift: a terrace overlooking the swimming pool and the Apennines beyond!
Suite 3
The Specchio Suite
Mirrors are much more than just plain decoration, they're a door into a world of caresses, unspoken stories of love and long hours cuddling with only one concern: watch the first beams of light filter through the curtains of the east window, then watch the sun set on the opposite side of the suite.
What is it like to be on top of everything? What is it like to see the Umbrian mist play every morning with the hills surrounding Bellaugello? What is it like to take a shower and marvel constantly at the beauty of the Chiascio valley? These are complicated questions and there's only one way to answer them: The Diva Suite!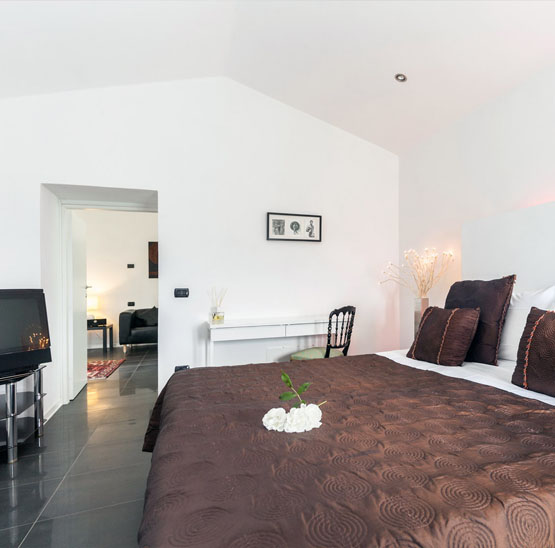 Suite 5
The Giardino Suite
A haven for those who want to keep in touch with nature and outdoor spaces, to breathe the Umbrian breeze first thing in the morning and to feel closer to the earth on which Bellaugello stands. The best way to be thankful to nature is to peacefully admire its beauty.
Breathe, relax, unwind and most of all enjoy life
Booking at Bellaugello is easy!