No writing, no blogging of late, it seems I have been on strike, not true.  It is not that I have not hd anything to say, it is just that I have been demoralised, and felt rebellious and thought not to blog for a bit.
For the past six years blogging has been a significant part of my life here at Bellaugello Gay Guest House, recounting the stories of my daily life, the things an people I come into contact with, trials, tribulations, highs, lows and above all the odd rant or two.  So it is with a bit of arrogance I signed off for a few weeks.
I am now concerned that I have let my regular readers down.  At no time in my blogging history have there been such breaks, I usually post two or three times a week, people follow my jottings, and I am on  guilt trip that my readers have had nothing to laugh at, and Google might have overlooked me.
What you cannot over-look with out being amazed is the view over the infinity swimming pool at Bellaugello…
Early this May morning the mist lingers in the Chiasco valley, small wisps break off and float lazily skywards, the water brilliant azure, the sky cloudless 
Tempting, very tempting….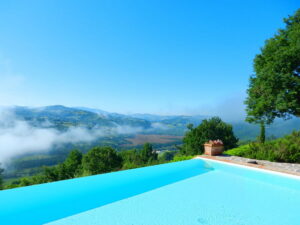 Come join us, keep watching this space, I will be writing more soon